55th International Art Exhibition La Biennale di Venezia 2013
Every archive bears traces of the past, updated by its present use. Every kind of sorting out and every index are arbitrary in relation to contents. However, without a basic "formal" operation an archive remains a mere collection of individual items, and we can never be sure about the connections between the individual elements. Without typology we get lost among the gathered material, and in the end a misleading piece might take over, a direct trace of what has been – and what is unutterable.
Postproduction is only an attempt to outwit what survives in our views. The Still the Same Place project is an affirmative as well as critical attempt to reflect the cultural-historical and psychological importance of Venice, usually sidelined by self-centred gestures of artists from the pavilions of participating countries and art presentations at the Biennale.
Nonetheless, with Slovak artist Petra Feriancová and her site-specific installation An Order of Things II, Venice as a point of departure and subject disappears in a return to intimate history. Although pigeons, seashells, masks and vedutas are general images with specific meanings only here in Venice, their photographs and even collections have been created for purely personal reasons (by the artist and her family), and their factuality has nothing in common with Venice. In contrast, Czech artist Zbyněk Baladrán in his new film Liberation, or... conceptualizes the relationship between the mental map of Venice metaphorically materialized by Petra Feriancová's archive, his own critical reading of the collected material and the context of the Venice Biennale as an institution. The subjective commentary of visual montage leads the viewer through distant and close, personal, social and political connections of Venice as a contemporary art centre without which the Biennale would not be what it is, a joyful apocalypse of meanings and values.
The project is the outcome of the long-term interest on the part of both artists in memory and the manners of its preservation, processing and construction. On the other hand, it also involves intense responses to the phenomenon of Venice as a specific place epitomizing – and not only for contemporary visual artists – the fruitful (in terms of individual imagination and the structure of the global art scene) conflict between the past and present, memory and intervention, personal experience and an institutionalized act.
Marek Pokorný, May 2013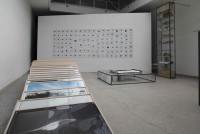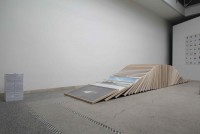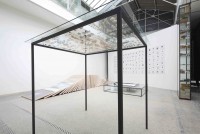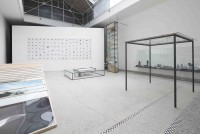 Foto: Keizo Kioku